Lapis Lazuli smykkesten
Lapis Lazuli smykkesten har en hårdhed på 5 – 5,5 på Mohs skala
Lapis lazuli kan bringe os klarhed. Den øger vores koncentrationsevne, sensitivitet og vores evne til at være tålmodige. Stenen forstærker de følelser og egenskaber, der er fremtrædende i vort sind netop nu. Negative såvel som positive.
Lapis lazuli hjælper dig med at fokusere og koncentrere din spirituelle energi. Den skaber forbindelse til dine dybe intuitive kræfter og bringer dig i kontakt med dit sande jeg. Stenen hjælper med at åbne dine følelsesmæssige blokeringer og uhensigtsmæssige følelser. Den lære dig at udsende rigtige og positive energier. Styrker immunsystemet og god mod spændinger og halsbetændelse.
Aktiverer dit højere selv og styrker de intellektuelle evner. Stimulerer ønsket om viden, sandhed og forståelse, og hjælper i processen med at lære. Bringer ro og kærlig kommunikation til et hjem med temperamentsfulde teenagere, autisme samt opmærksomhedsforstyrrelser. På arbejdet, tiltrækker den forfremmelse, succes og varig anerkendelse på dit område. Lapis Lazuli er ikke et enkelt mineral.
Der er noget magisk og mystisk over stenen, som var en af de mest benyttede i oldtidens religioner. Ægypterne brugte lapis som bro til den åndelige verden, og indianerne havde den med på deres shamanrejser. Lapis lazuli giver dig indre ro i hverdagen og lægger en dæmper på nervøsitet og negative tanker.
Fysisk virker stenen især healende i forbindelse med øjensygdomme og spændingshovedpiner. Hav Lapis lazuli på dig, bær den som et smykke – eller sov med den, så den kan påvirke dine drømme, og du bedre kan huske dem, når du vågner. Denne stærke indre kraft kan også opbygge mod, selvtillid, og overvinde generthed. Lapis Lazuli bringer åndelig kærlighed og er også kendt for at øge kærlighed og troskab inden for ægteskabet. Er også god ved sinus lidelser, kræft, hovedpine, nervesystem, taleproblemer, hypofyse, organ styrke, virilitet, smertelindring, hjerte, immunsystemet
Stjernetegn: Vandmanden, Tvillingen, Jomfruen, Vægten, Skytten.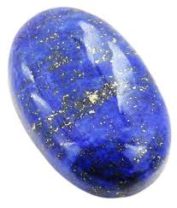 Lapis Lazuli smykkesten farver
Lapis Lazuli kan varierer fra grønlig-blå til violet
Although the colour of lapis lazuli is defined by its name, 'the blue stone', its colors can actually range from slightly greenish blue to violetish, medium to dark and from low to highly saturated. The blue is owed to sulfur coloring agents. The finest stones exhibit an evenly distributed color and have no visible deposits of calcite, although a moderate amount of gold pyrite flecks is considered acceptable. Too much pyrite can result in a dull, greenish tint, while calcite can predominate the mix, giving the stone an overall less appealing lighter blue shade.
An evenly distributed, highly saturated, slightly violet-blue color with little to no pyrite or calcite is the most prized; stones of this quality are sometimes referred to as 'Afghan' or 'Persian'. Lapis colors are often described using an adjective that refers to a specific locality, but that does mean the gem is actually from that area. For example, 'Chilean lapis' may not actually be from Chile, but is a term often used to refer to lapis with a green tint, which is heavily included with white calcite.
Lapis Lazuli smykkesten klarhed og glans
Lapis lazuli occurs opaque in clarity. Lapis is often included with varying amounts of pyrite and its host rock matrix; calcite. When polished, it can have a vitreous to greasy and sometimes dull luster.
Lapis Lazuli smykkesten slibning og form
Lapis lazuli comes in various shapes and cuts. It is mostly cut en cabochon for rings, beads, bracelets and necklaces, as well as carved sculptures, vases and various ornamental objects. Round, spherical and oval shapes are most popular, followed by fancier hearts and trillions.
Lapis Lazuli smykkesten behandling
Lapis lazuli is typically not treated or enhanced in any way. However, some lighter materials may be dyed to result in deeper blues; dyed lapis may also be coated or with wax or plastic to improve stability. In some cases, lapis may be impregnated with wax or resin to improve color and luster. There is synthetic lapis lazuli available known as 'Gilson lapis' and there are many simulated stones too, typically dyed howlite or jasper. Dyed jasper is often referred to as 'Swiss lapis'.
Lapis Lazuli has been used for over 6,000 years as an ornamental gemstone, and is known worldwide for its breathtakingly deep blue color. The name of the stone is a combination of Latin and Arabic words meaning 'blue stone'. Lapis Lazuli has a hardness of 5-6 on the Mohs scale; it is sensitive to extreme conditions, but can also be ground into a powder as a base for watercolors, oil-paints and tempera paints. This beautiful stone is believed to symbolize friendship and truth.
Lapis Lazuli Facts, Information and Description
Lapis is considered a rock, not a mineral. It combines various minerals, mostly lazurite, but also contains calcite (white), sodalite (blue) and pyrite (fools' gold, a metallic yellow) and to be considered a mineral it would have only one component.
Top quality lapis lazuli comes from Afghanistan where is has been mined for more than 6000 years, but is also found in Siberia, Chile, the U.S., Pakistan, and Canada.
A strong blue, sometimes with a hint of violet, lapis lazuli's value decreases with the presence of white patches (calcite), while small veins of pyrite are often prized.
A soft stone, 5 -5.5 on the Mohs scale of hardness, lapis lazuli is one of the most valuable semi opaque stones.
Lapis Folklore, Legend, and Healing Properties:
Strengthens total awareness, creativity, ESP, skeleton, thyroid, helps to expand viewpoint. It is believed to improve sleep and cure insomnia.The Romans used lapis as an aphrodisiac.
During ancient times lapis was ground up and used for medicinal purposes as well as a cosmetic. The ground powder was mixed with milk and used as a compress to relieve ulcers and boils and, during the Middle Ages, lapis lazuli was believed to maintain the skeleton in healthy condition while keeping the spirit free from the negative emotions of fear and jealousy.
Lapis is used to energize the throat chakra and when placed over the brow chakra it induces a heightened state of awareness.