Flourite smykkesten
Flourite har en hårdhed på 4 på Mohs Skala
Formidler ordenssans og samling – samarbejde. Stabiliserer sindet og følelser og kreativitet. Åbner sanser og øge koncentrationen. Hjælper med at fokusere, præcisere og styrker psykiske evner. Forståelse af orden/kaos indbyrdes sammenhæng – og at orden er indeholdt i kaos. Formidler kontakt med sjælens lys. God mod modløshed og splittelse.
Stjernetegn: Vandmanden, Fisken, Jomfruen, Skytten.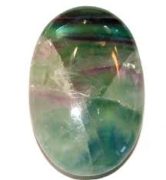 Flourite smykkesten Color

Fluorite occurs in a range of colors from colorless to black. The hallmark fluorite color is purple, while other popular colors include blue, green and yellow. Rarer colors include colorless, pink, brown, black and reddish-orange. Intermediate pastels between the previously mentioned colors are also possible. Most fluorite is a single color, but a significant percentage of fluorite exhibits multiple colors arranged in bands or zones.

Flourite smykkesten Clarity and Luster

Fluorite has an attractive vitreous luster and gem-quality specimens should be free from inclusions visible to the eye. Gem grade fluorite typically occurs with excellent transparency, while lower-grade, industrial and commercial-use fluorite is often translucent.

Flourite smykkesten Cut and Shape

Most fluorite gemstones are cut from deeply colored stones, but they can also be cut from the less intensely colored materials. Fluorite is typically faceted as a gemstone only for collectors or display purposes. The most common shapes are traditional ovals, rounds and cushions, but fancier shapes can be found. Multicolored and banded fluorite is often shaped and polished as cabochons. Many collected fluorite stones are unworked and are traded in crystal form. Fluorite has a tendency to chip, and owing to its softness, gemstones must be cut very carefully.

Flourite smykkesten Treatment

Fluorite is typically unenhanced. However, some materials may have been enhanced through irradiation gamma rays to create interesting neon colors. Synthesized fluorite is also available in a variety of colors.