Iolite smykkesten
Introduction to the Meaning and Uses of Iolite
Like a crisp, dark winter sky, Iolite, in shifting shades of violet-blue carries the spirit of journey, of dreams and intuition, of exploration and illumination. It is known as the Vikings' Compass, and provides the vision to move us, physically and spiritually, from one realm to the next.
Leif Eriksson and other Viking explorers who ventured far out into the Atlantic Ocean, away from any coastline that would help determine position, used thin pieces of Iolite as the world's first polarizing filter. Looking through an Iolite lens, they could determine the exact location of the sun and navigate safely to the New World and back.
A property called pleochroism is very pronounced in Iolite, producing different colors when the stone is seen through different positions. Overall, Iolite appears as violet-blue or indigo, but in different positions may shift to a yellow-gray or honey color, and even to a clear light blue. It is also referred to as "Water Sapphire" or Dichroite. Iolite's name comes from the Greek ios, meaning violet, and is the gem version of the mineral Cordierite.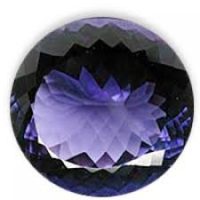 Iolite smykkesten Color

Iolite is typically light to dark blue and violet, although it can also occur in various shades of yellow, gray, green or brown. The most desirable color is an intense violet blue that can rival that of tanzanite. Iolite is trichroic which means that three different colors can be seen in the same stone depending on the viewing angle. Some lower grade or poorly cut iolite can appear overly dark or 'inky', often appearing near-blackish.

Iolite smykkesten Clarity and Luster

The mineral cordierite is typically opaque, while fine gem-quality iolite appears transparent to translucent in clarity. In many cases, the cutting quality of the gem can affect its clarity. Stones cut too deep may appear opaque. Most iolite exhibits some visible inclusions, especially in larger stones. Although they are rarely encountered, eye-clean specimens are not unheard of. When polished, iolite exhibits an oily to vitreous luster.

Iolite smykkesten Cut and Shape

Iolite is frequently given a step-cut to enhance color and it is one of the few gem types that are often intentionally 'windowed' or shallow cut to lighten its tone. Cutters must properly orient the rough carefully, taking into account iolite's trichroism of blue, gray and near colorless forms. The most common shapes for finished stones include traditional faceted rounds, ovals and pear shapes. Fancy shapes and calibrated sizes are relatively accessible.

Iolite smykkesten Treatment

There are no known treatments or enhancements for iolite, although there is a synthetic cordierite available, which is primarily used for ceramics and other industrial purposes.
Iolite smykkesten Uses and Purposes – Overview
Iolite helps in recovering balance, and is recommended for those suffering from disorientation, lack of motivation, chronic disorganization, and distraction. [Megemont, 96] It strengthens the resolve to take on responsibility and carry through, and provides self-assurance and endurance in adverse situations. [Gienger, 32] It is an excellent source of energy when used for the elimination of debt and the responsible management of money. [Melody, 336]
Iolite restores a sense of perspective to those who feel they are jinxed, and inspires anyone with a chaotic life to start to bring order in small practical ways. 
Iolite resonates with the energy of twilight, a beautiful violet-blue that stimulates the astral bodies and psychic awareness. It reveals realms beyond the usual waking consciousness and is ideal for astral projection, dimensional and other inner vision works, and is excellent for past- and alternate-life work.

Iolite is a stone of the muses, activating the visionary, creative side of the mind, and accessing thoughts and ideas beyond the ordinary. It inspires creative self-expression through writing, song, movement and other artistic endeavors.

Use Iolite to strengthen family dilemmas. Place in the living area if sibling rivalry or the presence of a new step-parent is causing a child to feel excluded. Use Iolite if family members have over-high expectations of you, or if your career path was chosen for you because of family connections. As an amulet, Iolite brings travelers safely home. Give a piece of Iolite jewelry or a tumblestone as a farewell gift to students leaving home or emigrating family members.
Iolite aids in understanding and releasing the causes of addiction, allowing for the expression of one's true self, freed from the expectations of others.
Iolite smykkesten Physical Healing Energy
Iolite is credited with supporting a stronger than normal constitution and is said to enable one to consume alcohol without exhibiting the effects, promotes detoxification, and improves degenerated conditions of the liver. It also reduces fatty deposits in the body.
Iolite is used in regulating digestion, and enhances hair and nail growth.
Iolite strengthens the nerves, helps with paralysis and numb limbs, and tolerating pain. [Gienger, 32] It has been used to treat malaria and other fever-producing disorders.
Iolite may assist in healing of the eyes, migraines and headaches, disorientation and dizziness, and Meniere's disease. It also stimulates memory, and prevents insomnia, nightmares or sleep disturbances.
Iolite Emotional Healing Energy
Iolite examines the inner path of the deep self. It assists in letting go of the belief that one needs to control inner experiences, and dissolves fear of the unknown or suppressed parts of the psyche. It increases the capacity to move forward, and allows for the understanding that the examination of one's wounds is the most direct path to healing. It is a stone of inner treasure, helping to uncover the lost parts of oneself, and in receiving the peace one's spiritual journey brings.
When in the midst of adversity, Iolite helps to provide solutions to seemingly insurmountable problems. It promotes a calm, positive state of mind, instills hope, and assists in decisions on how to proceed. It gives the emotional distance needed for a clearer perspective.
Iolite balances the male/female aspects of one's character and brings harmony within the self. By taking responsibility for one's own life and happiness, it releases discord from relationships and helps overcome codependency within close partnerships.
Iolite Chakra Healing and Balancing Energy
Iolite carries a violet-blue energy that activates and clears the Third Eye, opening communication and awareness from higher vibratory realms.
The Brow Chakra, also called the Third Eye, is the center of our perception and command. It directs our sight and everyday awareness of the world. Our consciousness is located here, and we relate to ourselves through this chakra.
It balances the important and the unimportant, sorting meaning from data and impressions. It commands the energy flow within the body. When the brow chakra is in balance we see clearly and understand what we see. We can interpret visual cues and our perception is high. Our thoughts and internal communications within ourselves are healthy and vibrant. We are open to new ideas, dreams, and visions. We can be quietly observant, and reflective. We can control the flow of energy within all the chakras. The dark blue/purple crystals of indigo are used to treat imbalances of the brow chakra. This is the color of an empty sky, of solitude and reflection. It is a quiet color, one of mystery and wisdom and judgment.
Iolite may also link with, or stimulate, the Crown Chakra, located at the top of the head. It is our gateway to the expanded universe beyond our bodies, and controls how we think and how we respond to the world around us. It is the fountainhead of our beliefs and the source of our spirituality.