Prehnite smykkesten
Prehnite smykkesten har en hårdhed på 6 – 6,5 på Mohs skala
Prehnite er en meditations eller afstresningssten, den er lysegrøn, smaragdgrøn eller hvid gennemskinnelig. Den lader dig nå dybder langt uden for vores forestillingsevne. I tidligere tider brugte man Prehnite til at spå om fremtiden. Den er god at bruge, når du skal have klare drømme, som du gerne vil huske. Du kan placerer den under din hovedpude, giver mental psykisk klarhed og derfra vil den arbejde med din underbevidsthed mens du sover. Den giver en forhåndsviden om ting man ellers ikke har haft kendskab til.
Prehnite giver dig denne særlige gave, at den beskytter sin bærer. Fysisk er den gavnlig på nyre og blærer og kan med god virkning bruges som drikkeessens. Hvis du vil bruge Prehnite til at tyde dine drømme, så læg den i et glas vand om dagen, og drik vandet inden du går i seng. Du lægger din Prehnite under hovedpuden, og dette vil hjælpe dig med at få klarere drømme, som du bedre er i stand til at huske. Meget energigivende. Beskytter sin bærer. God mod nyre- og blæreproblemer.
Stjernetegn: Vandmanden, Løven, Vægten, Skytten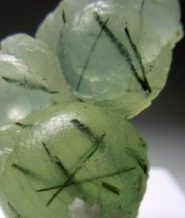 Prehnite smykkesten Color

Prehnite occurs in a range of green colors, including pale green to dark green and yellow- to brown-green. Prehnite may also occur gray, blue, orange, white and colorless. A soft apple green color is most desirable, while blue, pink, colorless, white and orange are considered the rarest occurrences and are highly sought after by mineral collectors.

Prehnite smykkesten Clarity and Luster

Prehnite is typically translucent in clarity and is rarely transparent. It is often found in very large sizes. Transparent and facetable material is typically found only in smaller sizes. Its has a vitreous to pearly luster.

Prehnite smykkesten Cut and Shape

Prehnite is often cut and polished en cabochon, but highly transparent materials are quite often faceted. Prehnite may also be tumbled or beaded and it is a popular ornamental material used for decorative carvings. The most popular shapes include traditional oval, cushion and round shapes. Fancy shapes are not as popular, but can be found, including hearts, trillions and pears. Cat's eye prehnite is known but extremely rare; these are cut en cabochon to maximize chatoyancy.

Prehnite smykkesten Treatment

It is not known to be treated or enhanced in any way.
Prehnite meaning
Its is a stone of unconditional love. It is said to connect to the archangel Raphael. Prehnite enhances inner knowledge, showing tje path forward to spiritual growth through attunement to divine energy.
Prehnite connects the will and the heart. In so doing one's actions attain the highest good.
Wear prehnite to strengthen your intuition and recognize truths.
Used as a stone of vision, it works well during meditation to access higher levels of awareness, stimulating the third eye chakra.
Healing properties of Prehnite
It can assist in finding the root cause of an illness. Healers use it for the kidneys and bladder, thymus gland, shoulders, chest and lungs.