Rutile Kvarts smykkesten
Rutilkvarts smykkesten er et gennemsigtigt mineral bestående af tital og ilt. Den har tynde guld, sølv eller bronzeagtige streger i sig. Rutilnåle består af grundstoffet titan. De lyse, sølvagtige typer Rutile kvarts, har de blideste vibrationer, mens de rødlige, guld -og bronzeagtige relaterer til de stærkere og mere intense følelser. Rutilnålene danner iøvrigt ofte sæprægede mønstre.
De mørkeste af dem, de gyldne – kan du især bruge på haracentret, solar plexus -og kronecentret. De lyseste, sølvagtige passer til hjertecentret. Med rutilkvartsen har du mulighed for at opleve og modtage den højeste spirituelle indsigt. Al din tankeenergi vil oplyses og du vil være åben for clairvoyante oplevelser. Du kan med fordel bruge apachetåre, rutilkvarts og Diamant, hvis du er midt i en åndelig åbning. Her vil disse sten gå ind og forstærke dine evner, og sætte dig i forbindelse med dine åndelige vejledere, afbalancere dine chakras og tage de ting frem som skal arbejdes med. Med diamanten som en fuldendt del af denne treenighed, vil hele processen forstærke og mangedoble hele energien.
Rutilkvartsen vil virke stærkt på solar plexus og den vil skabe forbindelse til kraften inde i dig. Rutilkvartsen  er ideel til stilhed og meditation. Rutilkvarts er god mod forstyrrelser og ubalancer af nervøs karakter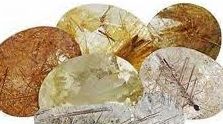 Rutile Kvarts smykkesten Facts, Information and Description
Quartz is the most common mineral on Earth. It is found in nearly every geological environment and is a component of almost every rock type. It makes up about 12% of the earth's crust, occurring in a wide variety of igneous, metamorphic and sedimentary rocks. It is also the most varied in terms of variety and color. Quartz is a 7 on the Mohs scale of hardness.
Rutilated quartz is found in Australia, Brazil, Kazakhstan, Madagascar, Norway, Pakistan and the United States.
Rutile is a major ore of titanium, which is a metal used for high tech alloys. It often forms needle-like crystal inclusions inside quartz. This form of quartz is known as rutilated quartz and it looks like small bars of imbedded gold. Rutile is a 6 on the Mohs scale.
Because of the difference in hardness between the two materials and because of the way rutile forms inside, this can be a difficult stone to attain a smooth surface without pits.
Rutilated quartz has been referred to as Cupid's darts, Venus hair stone and Fleches d'amour.
The name quartz comes from the Saxon word querklufterz which meant cross vein ore. The name rutile comes from the Latin word rutilus meaning red.
Rutile Kvarts smykkesten Folklore, Legend, and Healing Properties:
Brings forth each person's strengths, originality, aids sleep, relate to others.
Rutile is said to intensify the metaphysical properties of its host crystal and to enhance one's understanding of difficult situations. It is also said to enhance creativity and to relieve depression and loneliness.
Rutilated quartz is said to slow down the aging process and is said to be a strong healer.