Sodalit smykkesten
Sodalit smykkesten er en kommunikations sten. den hjælper med at igangsætte. Hjælper med at konfrontere følelser, sætte og overskride grænser, afprøve visioner og sige til og fra. Slippe gammel frygt, skyld og give mod til at møde det nye. Om ønsker og det sidste skub til at føre dem ud i livet. Overblik, tillid til egne ressourcer og evner. Styrke til at gå ind i følelserne og konfrontere. Afbalancering af det maskuline og feminine. God mod halsbetændelse og til styrkelse af lymfesystemet.
Stimulerer intellektet så du kan klare enhver situation. God hvis man skal løse intellektuelle opgaver, f.eks. ved et studium. Virker afspændende på både krop og sjæl. Sodalit giver kræfter og overskud og er medvirkende til at slippe skyldfølelser. Sodalit er en rigtig god igangsætter sten. En gruppesten der giver sammenhold, kammeratskab og solidaritet. Giver evnen til at kunne komme til en logisk slutning via rationel tænkning. Fjerner forvirring og sammenblanding. Sodalit styrker lymfesystemet, blødgør spændinger i ryg og underliv.
Stjernetegn: Vandmanden, Løven, Jomfruen, Skytten.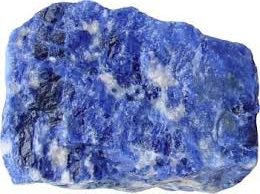 Sodalit smykkesten Color

Sodalite can be gray, yellow, orange or pink. However, for gemstone use, sodalite is typically a deep blue color, similar to the color of lapis lazuli, and often has white veins or patches running through it.

Sodalit smykkesten Clarity and Luster

Sodalite tends to exhibit a vitreous luster with a greasy luster on fractures. It is transparent to opaque, and can be interspersed with white calcite inclusions that appear like veins or patches.

Sodalit smykkesten Cut and Shape

Opaque sodalite tends to be cut en cabochon. It can be cut into ovals, baguettes, rounds or fancy shapes. Transparent material is faceted, and is quite rare.

Sodalit smykkesten Treatment

Synthetic sodalite has been available since 1975, and is also known as "basic sodalite". Natural sodalite is also widely available and all reputable gem traders declare any synthetic or treated material.